Snappers
Lutjanidae
Max 1 meter (3feet)
De Snapper is een grote familie, sommige soorten (vooral de rode) is erg lekker dus daar wordt veel op gejaag maar het is geen bedreigde soort.
Zelf is de snapper ook een jager en leeft voornamelijk van rifvissen.
Snappers
Lutjanidae
Max 1 meter (3feet)
The Snapper is a large family, some species (especially the red one) are very tasty so they are hunted a lot but it is not an endangered species.
The snapper itself is also a hunter and lives mainly on reef fish.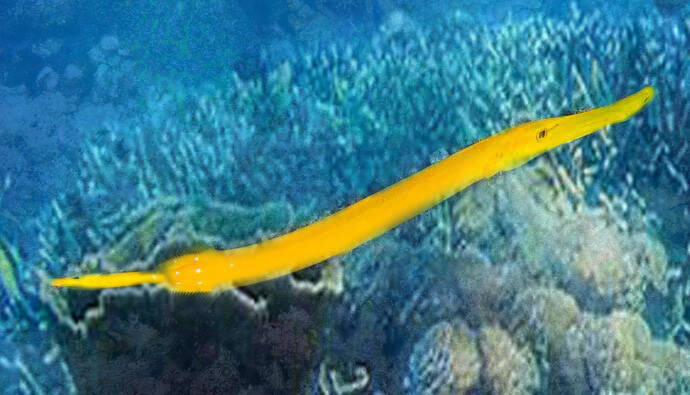 Trompetvis
Aulostomus maculatus
Max 1 meter (3 feet)
Deze vis komt voor in veel verschillende kleuren. blauwgrijs, felgeel of groen en deze soort heeft ook nog het vermogen om van kleur te veranderen om zichzelf te camoufleren. Hij zwemt vaak erg dicht aan de oppervlakte.
De Trompetvis groeit tot een maximale lengte van 100 cm (39 inch) in totale lengte, hoewel 60 cm (24 inch) vaker voorkomt.
Trompetvis is een hinderlaagroofdier waarvan bekend is dat hij zich verstopt tussen scholen grote plantenetende vissen, de vis in de schaduw stellend totdat het dicht genoeg bij een prooi is om toe te slaan. hij kan ook verticaal tussen de koralen hangen of met de stroming meedrijven, waarbij hij elke prooi die eronder zwemt vangt door ze in de mond te zuigen die elastische weefsels heeft zodat hij zo wijd kan openen als de diameter van zijn lichaam. De plotselinge opening van de mond creëert een vacuüm dat de prooi in de mond trekt.
Trumpetfish
Aulostomus maculatus
Max 1 meter (3 feet)
This fish comes in many different colors. blue-grey, bright yellow or green and this species also has the ability to change color to camouflage itself. It often swims very close to the surface.
The Trumpetfish grows to a maximum length of 100 cm (39 in) in total length, although 60 cm (24 in) is more common.
Trumpetfish is an ambush predator known to hide among schools of large herbivorous fish, shading the fish until it is close enough to prey to strike. it can also hang vertically between the corals or float with the current, catching any prey that swims below by sucking them into the mouth which has elastic tissues so it can open as wide as the diameter of its body. The sudden opening of the mouth creates a vacuum that draws the prey into the mouth.