V L I N D E R S


B U T T E R F L Y S
Volgens schatting komen er meer dan 50 vlindersoorten voor op de eilanden. Het is helaas moeilijk om hier mooie foto`s en beschrijvingen van te vinden. Meer informatie is dus welkom.
Ascalapha Odorata
Wingspan 16 cm (6 in)
Zwarte dood
Deze prachtig gekleurde, grote nachtvlinder met een spanwijdte van maar liefst 16 cm, heeft een heel slechte reputatie. Hij wordt de gezien als de brenger van ongeluk, een kwade geest of zelfs een aankondiging van de dood. Op Aruba, Bonaire en Curaçao, wordt geloofd dat wanneer deze vlinder avonds in je huis op de muur gaat zitten een van je naasten zal sterven.
Bijnamen van deze vlinder zijn onder anderen 'de zwarte dood' en in het Engels Black witch.
Zelf heb ik dit mooie diertje al verschillende keren gezien maar er zijn gelukkig geen nare dingen gebeurt.
Black witch
This beautifully colored, large moth with a wingspan of no less than 16 cm, has a very bad reputation. He is seen as the bringer of bad luck, an evil spirit or even an announcement of death. In Aruba, Bonaire and Curacao, it is believed that when this butterfly sits on the wall in your house at night, one of your loved ones will die.
Nicknames of this butterfly include 'the black death' and in English Black witch.
I myself have seen this beautiful animal several times but fortunately no bad things have happened.
Danaus plexippus
Wingspan 5 centimeter (2 in)
Monarch vlinder
De monarchvlinder is een van de bekendste vlindersoorten van Noord Amerika.
het zijn over het algemeen trekvlinders die de zomer doorbrengen in de gematigde gebieden en in de winter naar het zuiden trekken, waar ze in enorme groepen overwinteren. Deze vlinders kunnen tot wel 8 maanden oud worden wat voor een vlinder erg oud is.
De soort die op de eilanden voor komt trekt niet want op de eilanden is het altijd mooi weer voor de vlinders. Deze vlinders leven een week of 6.
Het zijn prachtige, vrij grote vlinders met een krachtige vleugelslag.
De rupsen eten bladeren van verschillende soorten giftige planten waar ze zelf geen last van hebben. Dit gif slaan ze op in hun lichaam waardoor ze zelf ook giftig worden. Hierdoor worden ze zelf ook giftig. Het lichaam van de volwassen vlinder behoudt de als rups bij elkaar gegeten gifstoffen. Zowel de rups als de vlinder worden hierdoor gemeden door veel insecteneters.
Monarch butterfly
The monarch butterfly is one of the most famous butterfly species in North America.
they are generally migratory butterflies that spend the summer in the temperate regions and migrate south in the winter where they hibernate in huge groups. These butterflies can live up to 8 months, which is very old for a butterfly.
The species that occur on the islands do not attract because the weather is always good for the butterflies on the islands. These butterflies live about 6 weeks.
They are beautiful fairly large red-brown butterflies with a powerful wing beat.
The caterpillars eat leaves of various types of poisonous plants that do not bother them themselves. They store this poison in their bodies, which makes them toxic themselves. This makes them poisonous themselves. The body of the adult butterfly retains the toxins eaten together as a caterpillar. Both the caterpillar and the butterfly are therefore avoided by many insectivores.
Sint-jacobsvlinder

Cinnabar moth
Tyria jacobaeae
wingspan 32–42 mm (1.3–1.7 in)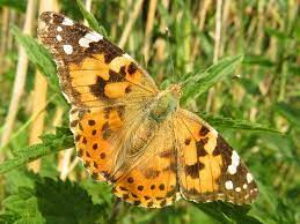 Distel vlinder painted lady
Vanessa cardui
wingspan 5 centimeter (2 in)
Zebra vlinder zebra longwing
Heliconius Erato
wingspan 7 tot 9 cm (3.0–3.5 in)
Cuban red leave
Anaea troglodyta
Wingspan 76–90 millimetres (3.0–3.5 in)
Red postman
Heliconius Erato
wingspan 5,5 tot 8 cm (2-3 in)
Leptotes cassius
20–35 mm (1 in)
Siproeta stelenes
Wingspan 8.5 and 10 cm (3.3 and 3.9 in)
Malachietvlinder
Deze grote grasgroene vlinder is betoverend mooi! De vleugels zijn zwart met felgroene vlekken aan de bovenkant en roodbruin met olijfgroene vlekken aan de onderkant. Als de vleugels gesloten zijn, zie je witte tot lichtgroene vlekken met daar om heen roestachtige lijnen. De spanwijdte is een indrukwekkende 9 tot 10 centimeter. Hij is genoemd naar het mineraal malachiet dat qua kleur lijkt op het heldere groen op de vleugels van de vlinder.
De malachietvlinder leeft van bloemennectar en rottend fruit maar heeft ook de wat minder frisse gewoonte om sappen uit mest en dode dieren te drinken.
De rupsen zijn stekelig zwart met rode vlekken en ze hebben hoorntjes op de kop.
Deze vlinder komt voor in heel Midden- en Noord-Zuid-Amerika, waar het een van de meest voorkomende vlindersoorten is.
Op de ABC eilanden kom je hem helaas niet heel vaak tegen.
malachite butterfly
This large grass green butterfly is enchantingly beautiful! The wings are black with bright green spots on top and reddish brown with olive green spots on the underside. When the wings are closed, you will see white to light green spots surrounded by rusty lines. The wingspan is an impressive 9 to 10 inches. It is named for the mineral malachite that resembles the bright green on the wings of the butterfly in color.
The malachite moth lives on flower nectar and rotting fruit, but it also has the somewhat less fresh habit of drinking juices from dung and dead animals.
The caterpillars are spiny black with red spots and they have horns on the head.
This butterfly is found throughout Central and Northern South America, where it is one of the most common butterfly species.
Unfortunately, you don't come across him very often on the ABC islands.