T R O U P I A L S
T R O E P I A A L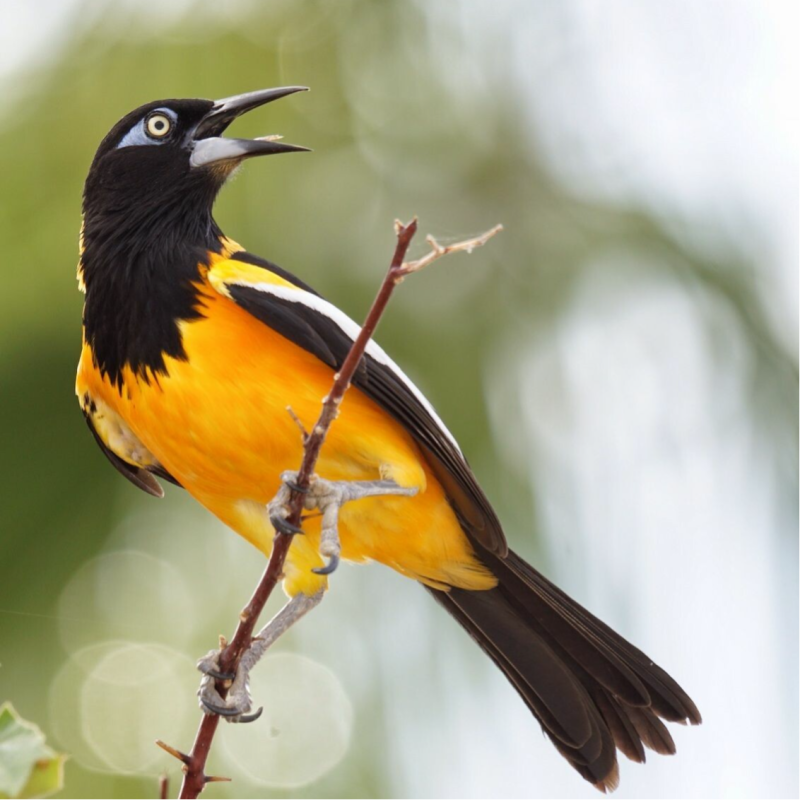 Icterus icterus
25 cm (10 in)
Oranje Troepiaal
De term troepiaal komt van het Franse troupiale, van troupe ("troep"), zo genoemd omdat ze in groepen leven. De Latijnse naam icterus komt van het Griekse ἴκτερος (íkteros, "geelzucht"); de icterus was een vogel waarvan de aanblik werd verondersteld om geelzucht te genezen. Het had ook de meer algemene betekenis "gele vogel", en daarom werd de naam later aan deze Zuid-Amerikaanse vogel gegeven.
Venezolaanse troepialen zijn vrij groot van formaat, met een lange staart en een dikke snavel. Ze hebben een prachtige geel/oranje kleur met zwarte vleugels en schouders.
Ze bewonen droge gebieden zoals bossen, droog struikgewas, en open vlaktes waar ze zoeken naar insecten, fruit, kleine vogels en eieren. Oranje troepialen zijn verder uitmuntende zangvogels die een heel repertoire aan geluiden uit hun mouw kunnen schudden.
De troepiaal broed van maart tot september. Het zijn nest piraten wat betekent dat ze niet hun eigen nest bouwen maar in plaats daarvan een leeg nest zoeken. Of ze verjagen gewoon de bewoners van een bestaand nest en eten alle eieren of jonge die achterblijven op.
Ze leggen dan 3 tot 4 eieren die na ongeveer twee weken uitkomen.
Venezuelan troupial
The term troupial comes from the French troupiale, from troupe ("troop"), so called because they live in groups. The Latin name icterus comes from the Greek ἴκτερος (íkteros, "jaundice"); the jaundice was a bird whose sight was believed to cure jaundice. It also had the more general meaning "yellow bird", which is why the name was later given to this South American bird.
Venezuelan troupes are quite large in size, with a long tail and a thick bill. They have a beautiful yellow/orange color with black wings and shoulders.
They inhabit arid areas such as forests, dry scrub, and open plains where they forage for insects, fruit, small birds, and eggs. Orange orioles are also excellent songbirds that can shake up a whole repertoire of sounds.
The troupial breed from March to September. They are nest pirates which means they don't build their own nest but instead look for an empty nest. Or they simply chase away the inhabitants of an existing nest and eat any eggs or young that are left behind.
They then lay 3 to 4 eggs which hatch after about two weeks.
Quiscalus lugubris
20 cm (8 in)
Caribische troepiaal
De Intens zwarte, Caraïbische troepiaal, kom je vaak in groepjes tegen in bermen op zoek naar insecten, of op het strand waar ze uit zijn op de restjes van badgasten.
Het is altijd erg amusant om deze sierlijke vogels met hun mooie gele ogen vanaf een strandbedje te observeren. Vooral de interactie die ze met elkaar hebben is leuk om te zien.
Ze zijn heel tam en brutaal en lopen gewoon de restaurants binnen om eten te zoeken.
Soms vallen ze zelfs in groepjes honden of andere roofdieren aan.
Het zijn echte kolonie vogels en `s nachts zoeken ze elkaar dan ook op om te overnachten in de bomen.
Hun bekerachtige nesten bouwen ze ook dicht bij elkaar, vaak in één boom. Het duurt ongeveer 2 weken tot de eieren uitkomen en twee weken later vliegen zal al weer uit.
Carib grackle
The Intense Black Caribbean Tropials are often found in groups on roadsides looking for insects, or on the beach where they look for the leftovers of bathers.
It is always very amusing to observe these graceful birds with their beautiful yellow eyes from a beach bed. Especially the interaction they have with each other is nice to see.
They are very tame and sassy and just walk into the restaurants looking for food.
Sometimes they even attack dogs or other predators in groups.
They are real colonies of birds and at night they seek each other out to spend the night in the trees.
They also build their cup-like nests close together, often in one tree. It takes about 2 weeks for the eggs to hatch and two weeks later the flies will hatch again.
Icterus nigrogularis
20 cm (8 in)
Kleine gele troepiaal

De gele troepiaal is duidelijk herkenbaar aan de felgekleurde gele veren. Ook het geluid van deze de vogel is opvallend en lijkt een beetje op blaffen van een klein hondje, maar de gele troepiaal kan daarnaast ook mooi zingen. In het Papiaments heet de vogel Trupial Kachó, waar het woord hond in voorkomt.
Voortplaning:
Bijzonder is verder het nest dat de gele troepiaal maakt. Het zijn namelijk ingenieus geweven, hangende nesten, een perfecte manier om de jongen veilig te stellen. De ingang van het nest is bovenin en de doorgang is heel nauw waardoor het nest makkelijk te verdedigen is tegen ei-stelende indringers.
Yellow oriole
The yellow oriole is clearly recognizable by the brightly colored yellow feathers. The sound of this bird is also striking and resembles the barking of a small dog, but the yellow oriole can also sing beautifully. In Papiamento the bird is called Trupial Kachó, which contains the word dog.
Propagation:
Also special is the nest that the yellow oriole makes. They are ingeniously woven, hanging nests, a perfect way to secure the young. The entrance to the nest is at the top and the passage is very narrow making the nest easy to defend against egg-stealing invaders.